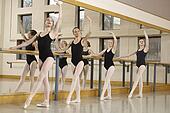 It has been a year and a half since I began an exercise program. My exercise of choice is Zumba. Love it! Thankfully, my Zumba instructor has opened her own fitness studio a mile from my house.
She offers many different types of classes.. Drillz, Top 2 Bottom, Ballet Barre,Zumba, Zumba Toning, Ball Balance Stretch and Flexibility, you get the picture. I knew I needed to incorporate some strength training into my workouts and these classes fit the bill.
On Mondays I do a class called Remix. It offers a combination of several classes. On Tuesday, I do Zumba. Wednesday is Ballet Barre ( one of my new favs), and Zumba Toning. On Thursday it's Kickboxing and/or Zumba. Let me tell you, I am loving it and I am sore as hell! Last night, my butt was killing me, but I felt so damn good!
I can't believe how much I enjoy working out when a little over a year ago, I was a couch potato. How times have changed. I am so proud of myself!
Have a great night everyone!